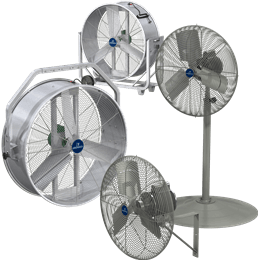 Circulators
Ideal for spot cooling workers in a variety of commercial and industrial applications.
OVERVIEW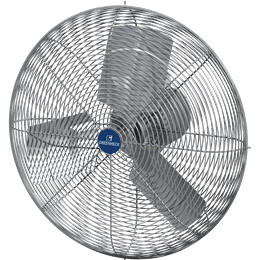 IC
Model IC is a direct drive air circulator designed for air movement where there is a need for spot cooling or recirculating air. Typical applications include factories, warehouses and garages. These units feature two-speed motors and vertical locking tilt adjustments for directing air where needed.
1,320 to 12,500 cfm
100 to 750 fpm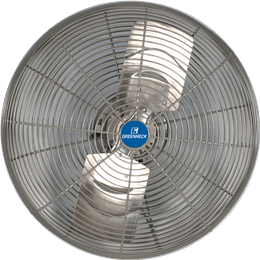 ICG
Model ICG provides a constant temperature in greenhouse applications using horizontal airflow to assist with eliminating hot and cold spots, condensation and heat loss. Guard set is gray polyester powder-coated. Mounting chain to suspend circulator from ceiling is included.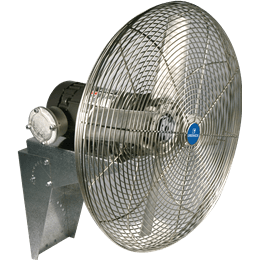 ICH
The ICH is designed for spot cooling in hazardous applications where flammable or explosive vapors, gases, or dusts are present. Circulator heads utilize zinc-plated wire guards and include a heavy-duty galvanized steel bracket for mounting.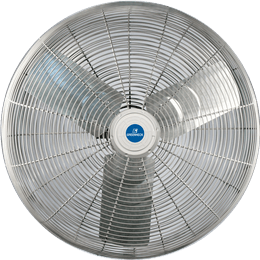 ICM
Model ICM is for spot cooling applications in factories, warehouses, manufacturing facilities and garages where humid and demanding conditions exist. The model maximizes worker comfort by utilizing a fine water vapor through evaporative cooling. Misting hub has low-pressure nozzles that provide an even water mist and plugs to adjust mist volume. Misting hub and associated tubing has a 250 psi. Flow per hour depends on the pressure of the water coming in. The total flow rate is between five and nine gallons per hour at normal hose pressures (typically between 40 and 80 psi).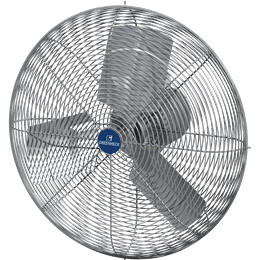 ICO
Model ICO is a direct drive oscillating circulator designed for sweeping air movement. This unit features two-speed motors and sweep through a 45º or 90º arc. Manufacturing plants and warehouses are common applications.
1,320 to 9,612 cfm
100 to 710 fpm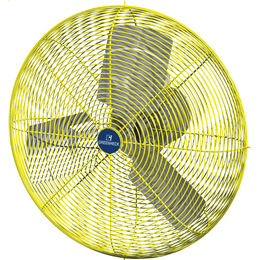 ICS
Model ICS is for spot cooling applications that require a highly visible safety yellow where potential physical hazards exist. Typical settings include automotive garages where fork lifts and other material handling equipment travel throughout the facility. Circulator heads utilize a vertical tilt/locking adjustment, allowing a multidirectional airflow. The yellow polyester powder-coated guard set is hinged for easy maintenance. Includes a three-position drop cord switch and 15-foot extension cord.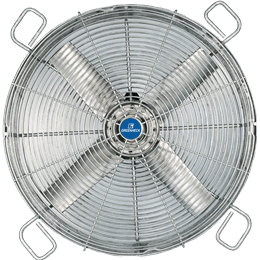 ICTG
Model ICTG is for indoor and outdoor use to reduce the temperatures of oil-filled transformer radiators in or around electrical facilities. Motor shaft features a rust inhibiting treatment and shaft-end bearing slinger to protect motor against dirt and moisture. Hot-dipped, heavy galvanized steel, basket-type guards.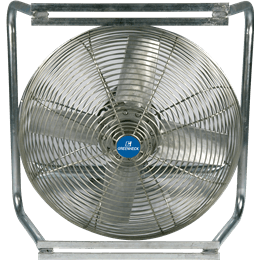 ICTT
The ICTT is designed for use in or around electrical facilities to reduce the temperature of oil-filled transformer radiators in indoor and outdoor settings. The motor shaft has a rust inhibitor treatment and shaft-end bearing slinger to protect motor against dirt and moisture. Fans utilize zinc-plated wire guards and include a unistrut mounting kit.
MAC
Mancooler fans move high volumes of directed airflow at low velocity. The fan is available in direct- or belt-driven models and has galvanized steel construction. These fans work well in factories, warehouses and agricultural applications. Multiple mancoolers help improve air quality and comfort when used as part of a general plant ventilation plan.
2,400 to 21,000 cfm
73 to 500 fpm